Innovation Forum 2019.10.11 Workshop for Ph.D. and early-career researchers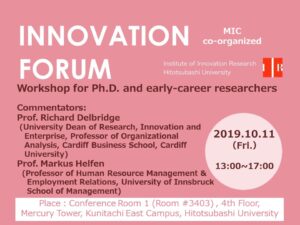 Workshop Title:
"
Workshop for Ph.D. and early-career researchers
"
Commentators:
Prof. Richard Delbridge
(University Dean of Research, Innovation and Enterprise,
Professor of Organizational Analysis, Cardiff Business School, Cardiff University)

Prof. Markus Helfen
(Professor of Human Resource Management & Employment Relations,
University of Innsbruck School of Management)
Date:
October 11th (Friday) 2019
from 13:00 to 17:00
Place:
Conference Room 1 (Room#3403), 4th Floor, Mercury Tower,
Kunitachi East Campus, Hitotsubashi University
Abstract:
This workshop aims to provide opportunities for PhD students and early career researchers to present their works in front of leading researchers in organization studies and HRM. Please contact Takahiro Endo (endo.takahiro@r.hit-u.ac.jp) by the end of September 2019, if you are interested to present your work. The format for each session will be 15-20 minutes presentation followed by 15-20 minutes discussion (depending on the number of presenters).
This forum is jointly organized by MIC (Management Innovation Research Center),
Hitotsubashi University.