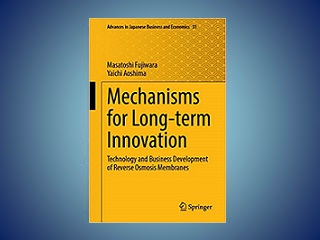 Book Title:
Mechanisms for Long-Term Innovation: Technology and Business Development of Reverse Osmosis Membranes
Authors:
Masatoshi Fujiwara, Yaichi Aoshima
Published by Springer Nature Singapore in 2022, 372 pages, part of the book series: Advances in Japanese Business and Economics (AJBE, volume 31)
https://link.springer.com/book/10.1007/978-981-19-4896-1
About this book:
This book explores how a long-term innovation can take place based on historical analyses of the development of reverse osmosis (RO) membrane from the early 1950s to the mid-2010s. The RO membrane is a critical material for desalination that is a key to solve water shortages becoming serious in many places of the world.
The authors conducted in-depth field studies as well as analyses of rich archival data to demonstrate how researchers, engineers, managers, entrepreneurs, and policymakers interacted each other for this material innovation to be realized. A series of historical analyses in this book uncovered that initial government supports, strategic niche markets, emergence of breakthrough technology, and company-specific rationales played significant roles for companies to overcome four types of uncertainty, technological, market, competition, and social/organizational ones, and enabled the companies to persistently invest in the development and commercialization of the RO membrane.
This book depicts that innovation does not arise on a sudden, but that it is actualized through long lasting process with turns and twists, which is driven by many non-economic rationales beyond economic motives.
Table of contents (15 chapters)
Introduction: The Objectives and Research Questions of This Book
Masatoshi Fujiwara, Yaichi Aoshima
Pages 1-21
■Overview
Front Matter
Pages 23-23
The Increasing Demand for Water Treatment and Reverse Osmosis
Masatoshi Fujiwara, Yaichi Aoshima
Pages 25-38
Technical Overview of the RO Membrane
Masatoshi Fujiwara, Yaichi Aoshima
Pages 39-52
■The Development of RO Membranes in the United States
Front Matter
Pages 53-53
The Beginnings of Research in the Public Sector
Masatoshi Fujiwara, Yaichi Aoshima
Pages 55-66
Development for Commercialization by Private Companies
Masatoshi Fujiwara, Yaichi Aoshima
Pages 67-84
■The Development of RO Membranes in Japan
Front Matter
Pages 85-85
The Rise of Japanese Companies
Masatoshi Fujiwara, Yaichi Aoshima
Pages 87-103
Toray: Development Aimed at Seawater Desalination
Masatoshi Fujiwara, Yaichi Aoshima
Pages 105-129
Toyobo: Focused Development in Cellulose Acetate Hollow Fiber Membranes
Masatoshi Fujiwara, Yaichi Aoshima
Pages 131-153
Nitto Denko: Development Under Earnings Pressure
Masatoshi Fujiwara, Yaichi Aoshima
Pages 155-181
■Analysis
Front Matter
Pages 183-183
Policy Support and Spillover Effects: Initiation of Development in the United States and Japan
Masatoshi Fujiwara, Yaichi Aoshima
Pages 185-209
Exploration of Initial Markets: Application of Unbalanced Performance Bundles
Masatoshi Fujiwara, Yaichi Aoshima
Pages 211-242
Emergence of Breakthrough Technologies and Convergence of Technological Approaches
Masatoshi Fujiwara, Yaichi Aoshima
Pages 243-266
Company-Specific Rationales
Masatoshi Fujiwara, Yaichi Aoshima
Pages 267-282
Long-Term Development Mechanisms Under Uncertainty
Masatoshi Fujiwara, Yaichi Aoshima
Pages 283-307
Contributions and Future Research
Masatoshi Fujiwara, Yaichi Aoshima
Pages 309-331