Vol.69 No.1 SUM. 2021 (In Japanese)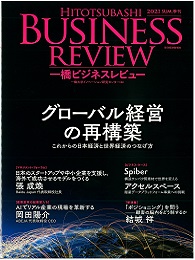 A leading management journal in Japanese,
which builds a bridge between theory and practice.
EDITED BY
Hitotsubashi University, Institute of Innovation Research
PUBLISHED BY
Toyo Keizai Inc.
Rebuilding International Business: How to Further Connect Japanese Economy and the World Economy

Kazuhiro Asakawa / Harry Korine
"Strategic Transformation to Global Open R&D: The Case of Takeda"
Tomoatsu Shibata
"Evolution on the Global Product Development Str ategy: DAIKIN's Growth Trajectory"
Kim Heejin / Hiroshi Itagaki / Tomoki Sekiguchi
"Language Choice of Japanese MNCs' Foreign Subsidiaries"
Sachiko Yamao
"Managing Human Capital with Global Mindset: Insights from International Human Resource Management Studies"
Osamu Ishida
"Globalization of Production System: From the Perspective of Physical Space and Digital Space"

Han H. Spring
"Is Your Company's Service Sector Ready for the Third-order Effects?"
Lee Heejin
"US-China Disputes and the Geopolitics of Technical Standards: From the Perspective of Techno-nationalism"
●From My Bookshelf
  Susumu Nagayama
●Entrepreneurs Who Change the World (7)
  Yousuke Okada
  Interviewed by Yaichi Aoshima / Masatoshi Fujiwara
●Managerial Insights from Innovation Management Studies (2)
●Occupying a Particular Place in the Mind of the Customer for Your Product (1)
 
Sho Yuuki
●Business Cases
Yaichi Aoshima / Masatoshi Fujiwara
"Spiber: Changing the world with structural protein materials
"
  Taketo Sugawara  / Emi Osono
"Axelspace: The challenge of building a data platform business
"
Charles Zhang
 (President & CEO, Baidu Japan Inc.
)
  Interviewed by Seiichiro Yonekura / Byeongwoo Kang