Vol.68 No.2 AUT. 2020 (In Japanese)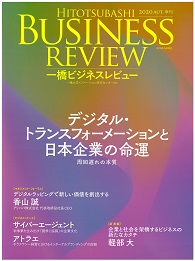 A leading management journal in Japanese,
which builds a bridge between theory and practice.
EDITED BY
Hitotsubashi University, Institute of Innovation Research
PUBLISHED BY
Toyo Keizai Inc.
Digital Transformation and the Fate of the Japanese Companies: What Made DX So Slow and So Unessential?
Hirofumi Tatsumoto / Fumihiko Ikuine
"DX: Past, Present and Future"
Soichiro Murata
"Run Electrons, Not Employees. Electrons Never Tired"
Youngjin Yoo
"Three Strategic Questions on Digital Transformation That One Must Ask"
Yasufumi Fujii
"Providing New UX Is the Purpose of DX: DX by Servicer-Merge-Maker Model with a Case of Ping An Group"
Vili Lehdonvirta
"Digital Transformation of Labour Markets: The Rise of Remote, Flexible, Contact-based Online Work"

Byeongwoo Kang
"Digital Transformation in the Education System"
Tohru Yoshioka-Kobayashi / Binshi Yuan 
"Innovation Management for Surviving the Recession: A Literature Review"
●A New Form of Business That Bridges Companies and Society (1)
 
Masaru Karube
●Entrepreneurs Who Change the World (4)
  Kazuhiro Ogura
  Interviewed by Yaichi Aoshima / Masatoshi Fujiwara
●Business Cases
Takahiro Endo / Genjiro Kosaka
"CyberAgent: Balancing Competition and Cooperation through Corporate Culture
"
Satoko Suzuki
"Atrae: The Role of Internal Branding in the Holacracy Management
"
Makoto Kouyama
 (CEO, Alibaba.com Japan Co., Ltd.
)
  Interviewed by Seiichiro Yonekura