Vol.66 No.3 WIN. 2018 (In Japanese)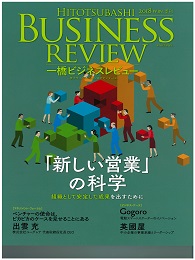 A leading management journal in Japanese,
which builds a bridge between theory and practice.
EDITED BY
Hitotsubashi University, Institute of Innovation Research
PUBLISHED BY
Toyo Keizai Inc.
NEW SCIENCE OF EIGYO
Takeshi Nobe / Hiroaki Komatsu / Fumihiko Ikuine
"The Reality and Possibility of 'Eigyo'"
Nobuyuki Inamizu / Hidenori Sato
"Current Status of Sales Studies and Problems of 'Eigyo' Studies:
A Review of 18 Meta-Analysis Papers"
Nobuyuki Inamizu / Yukiomi Kaburaki
"'Eigyo' in Japan Clarified Through Data"
Yoshiaki Yamashiro
"Building Organizational Capability in Sales and Marketing:
Formation and Transfer of Optimal Organizational Routines"
Ryusuke Kosuge
"The Path to Value Co-Creative Selling"

York Date / Isamu Yamamoto
"How Will AI Change Salespeople's Work?"
●Business Cases
Kentaro Nobeoka / Jhelun Bai
"Gogoro: Innovation of New Smart Electric Scooter
"
Hajime Sasaki / Yuriko Nishihara
"Custom Tailor Ginza Eikokuya: Processes to succeed the family business with improvements in performance
"
●From My Bookshelf
●Essay
  Ikujiro Nonaka
"Toward Phenomenological Management"
●FinTech Revolution and Innovation (6)
  Mikiharu Noma / Tsutomu Fujita

●International Standardization from JAPAN (5)  
  Manabu Eto / Yuichi Washida
Mitsuru Izumo
 (President and CEO, euglena Co., Ltd.
)
  Interviewed by Seiichiro Yonekura