Vol.66 No.1 SUM. 2018 (In Japanese)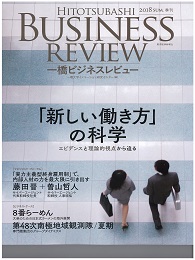 A leading management journal in Japanese,
which builds a bridge between theory and practice.
EDITED BY
Hitotsubashi University, Institute of Innovation Research
PUBLISHED BY
Toyo Keizai Inc.
Science of "Work and Life Shift"
Yasuhiro Hattori
"Work Style Diversification and Changing Nature of Psychological Contracts"
Isamu Yamamoto
"Firm Performance and the Promotion of Women's Participation and Advancement: Evidence from Japanese Firm Panel Data"
Hattori Seminor of Yokohama National University
"Sexual-division-of-labor and Women's Promotional Motivation"
Hiromi Sakazume
"Managerial Behaviors Depended on Subordinate Gender Differences"
Hattori Seminor of Yokohama National University
"Antecedents of Overtime Work and Job Stress"

Yuta Morinaga
"Does Team-based Health Promotion Practice Increase Employee's Well-being?: Exploring Next Stage of Health and Productivity Management through Focusing Population Approach"
Yohei Tsunemi
"Labor and Social Studies of Japanese News Site"
  Hiroshi Saijo (CEO and Managing Director, Yamaha Motor Ventures & Laboratory Silicon Valley Inc.)
  Interviewed by Kentaro Nobeoka and Yaichi Aoshima
●International Standardization from JAPAN (3)
  Manabu Eto / Yuichi Washida
●FinTech Revolution and Innovation (4)
  Mikiharu Noma / Tsutomu Fujita

●Design Techniques for Business Model Generators (8)
  Tatsuhiko Inoue
Satoko Suzuki
"Hachiban Ramen: Overseas Expansion of Japanese Ramen for the Masses
"
Motohiro Shinabe
"The 48th Japanese Antarctic Research Expedition / The Summer Period: Group Dynamics in Professionals
"
Susumu Fujita / Tetsuhito Soyama
 (President, Founder, CyberAgent, Inc. / Director, CyberAgent, Inc.
)
  Interviewed by Seiichiro Yonekura